By Stacy Vanzant Certified Personal Trainer & Group Fitness Instructor
We all remember the fun games of tag that we played as kids. We would chase after our friends trying to tag each and every one of them as they bobbed, weaved, and shuffled out of our way. It was a game of speed, accuracy, and agility.
You're probably thinking the same thing as I am: "That was years ago when I had a youthful frame, loads of energy, and flexible joints." Yes, you're right, but agility training has come back into popularity for a variety of reasons that don't including playing sports.
Sports Agility Training (SAT) is breaking the molds of traditional exercise routines and climbing in popularity fast. SAT is a form of fitness that builds speed, agility, reactivity, and quickness. Many levels of play from youth, collegiate, amateur, and professional competitive arenas are encouraging their athletes to incorporate agility fitness exercises into their training programs.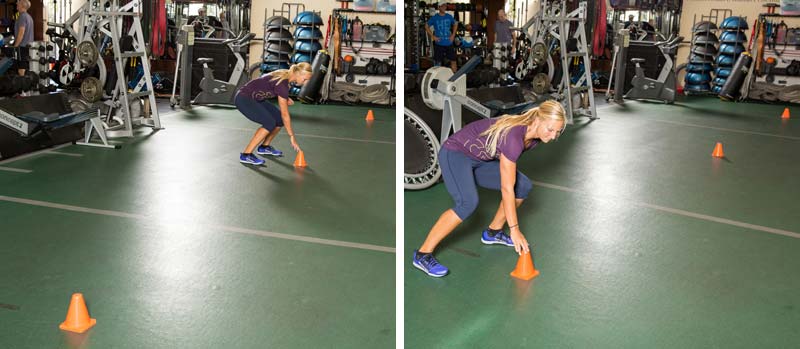 Sports Agility Training is a form of exercise that's done with a specific task in mind for a short period of time. For example, running back and forth from a series of cones, weaving feet over and back of an agility ladder, or even running weighted sprints are a few examples of SAT.
Because of its ability to improve the body's reactions and break performance plateaus, the intrigue and interest are bringing common, weekly fitness enthusiasts into the mix and they are practicing SAT on a regular basis.
Agility drills increase your balance, dynamic flexibility, functional core strength, control, and reduce your risk of physical injury by improving body mechanics. These benefits are allowing adults to stay active longer, enhance reflexes, improve coordination, and maintain balance and muscle mass to support the skeletal structure.
FUN is back in Fitness! After years of repetition in popular fitness routines on treadmills, bikes, and even in the weight room, you can stop your boring workout that sometimes keeps you from exercising.  Let's face it, if you like what you're doing you're more likely to continue. Each SAT routine is unique and offers a wide variety of exercises keeping you engaged and excited to perform each exercise.
Motivation for Measurable Results. We all want to see results of our efforts. Agility training is an excellent form of fitness that's easily measured each time it's performed. A drill like a three-cone shuttle run, often performed at professional football try-outs, is a good example. Perform the drill and time yourself. Record the time and after a week or so of training, do the drill again and time yourself. You will be amazed at how quickly you can see measurable results after only a few exercise routines.
High-Intensity Interval Training. Agility training is a form of HIIT which is an effective way to burn a lot of calories in a short amount of time. Running very fast for a short period of time (10-30 seconds) and then allowing the body to recover before repeating the exercise is a great way to burn calories fast! HIIT training also carries over after the workout to continue a high caloric burn hours after your exercise routine is over.
Prevent Injury. Changing movement patterns quickly allows you to train the body to make modifications in a split second. Training your body to change directions in movement and speed allows your muscles to improve upon the strength and resiliency of connective tissue. If you have been training in agility and trip stepping onto a curb, it's likely your body will be more responsive and prevent a fall.
Warm-up Is a Must. Unlike other exercise methods that allow you to slowly warm-up the muscle and connective tissue, agility training requires your body be fully warm before starting any of the exercises. Agility training requires a longer warm-up to ensure the body is fully ready to train. If you're not fully prepared to start the workout it's likely you can become injured. You wouldn't hop out of the car and go into a full 50 meter sprint, so please get warm before starting any agility drills.
Most Calibers of Fitness Can Enjoy SAT. If you can't run then jog. If you can't jog then speed walk! Modifications are perfectly acceptable with any form of fitness, so give it a try! As with any fitness routine, consult with your doctor.
Perform 3 to 5 reps of each exercise to your fastest and fullest ability and have fun!
Hop Scotch Drills (if you do not have an agility ladder, grab some chalk and the kids and get moving).
1 In Forward:
Start with both feet outside of the ladder. Hop one foot at a time in each block of the ladder until you reach the end keeping the opposite foot off the ground. Then hop back one foot at a time until you've completed the whole ladder. Down and back is 1 rep. Remember speed is key!
2 in Forward:
Working your way back down the ladder, one foot and then the other will enter each section of the ladder. Keep the count of 1-2, 1-2, 1-2 as quick as you can down.
2 in Lateral:
Working down the ladder laterally, run, jog placing each foot in each ladder slot. Add high knees to this drill for a high intensity calorie burn. Run, Run!
Hopscotch Forward:
Starting with both feet outside of the ladder jump with both feet into the ladder then jump to straddle the outside of the slot on the ladder. Hop into the next slot and then straddle and so forth. For an increase drill add a squat when jumping outside the ladder.
In-In, Out-Out:
Alternate feet and in and out of the ladder as you work your way down the length of the ladder. Again, add a high knee move to elevate this exercise intensity.
Three-Cone Drill:
Place three cones (or other markers) in a triangle pattern eight feet apart. Sprint from the first cone to the second. Circle that cone, then run backward to the first. Circle the first cone, then sprint to the third cone; circle it, then run backward to the first cone. Repeat as quickly as you can three times. Rest for 30 seconds, then repeat three more times.
Weaving Sprint:
Line up five cones (or other markers) in a row, about 18 inches apart (a bit less than your average stride). Start at one end and weave through the cones, running as fast as possible without knocking them over. At the end, turn around and jog back. Do four reps, then rest for 30 seconds. Repeat the sequence three times.
Compass Drill: